Ribs are probably the most iconic meat to smoke and often what people judge you on the most. Sure anyone can grill a hot dog or hamburger, even cook a decent steak. Ribs on the other hand can be so tender, that they fall off the bone or so dry and tough that they aren't worth the mess on your fingers. We're going to share a tried and true, full proof method, for the perfect smoked ribs. It takes 6 hours but oh baby is it worth. So pop open a beer, grab your lawn chair and relax while you make the perfect ribs, every.single.time.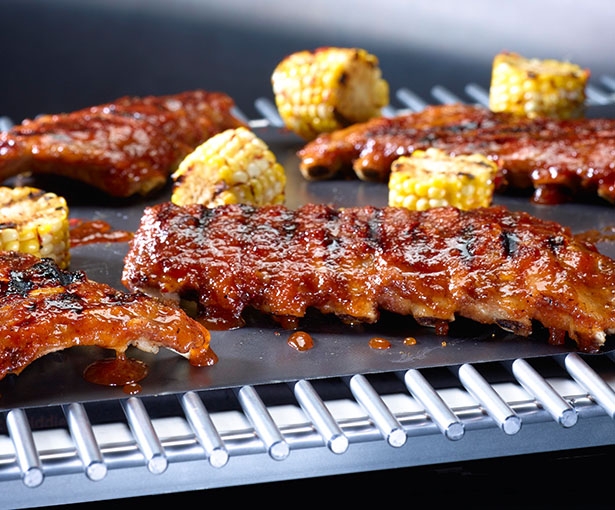 3-2-1 Perfect Smoked Ribs
2017-06-01 14:05:58
Serves 6
This isn't so much a recipe as a method, feel free to use your own special rub and sauces.
Ingredients
2 or more racks of ribs
Yellow mustard
Rib rub
Heavy duty foil
BBQ Sauce
Beer
Instructions
Coat the ribs in yellow mustard, then cover them in about 1/4 cup or so of dry rub.
Smoke at 230°F for 3 hours.
Drink beer and monitor the temperature.
Remove from smoker and wrap completely with foil.
Continue cooking in smoker (without smoke) or move to grill and cook with indirect heat (this is what we do) for 2 hours at the same temperature.
Drink beer and monitor the temperature.
Remove from the foil. Place the Cookina cooking mat on the grill and cook ribs over direct heat (still 230°F), turning and basting them occasionally with BBQ sauce.
Let ribs rest for 10 minutes, slice and eat...with beer 🙂
Pizazz http://pizazzmt.com/
Product Featured: