This appetizer is perfect for the meat and potato lover. Of course who wouldn't love potatoes wrapped in bacon? Try our favorite USA rimmed baking sheet, they are a snap to clean! We also carry 6" skewers, the perfect size for these tasty babies.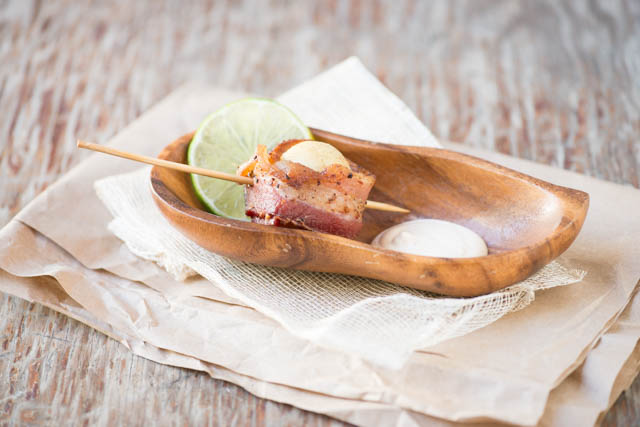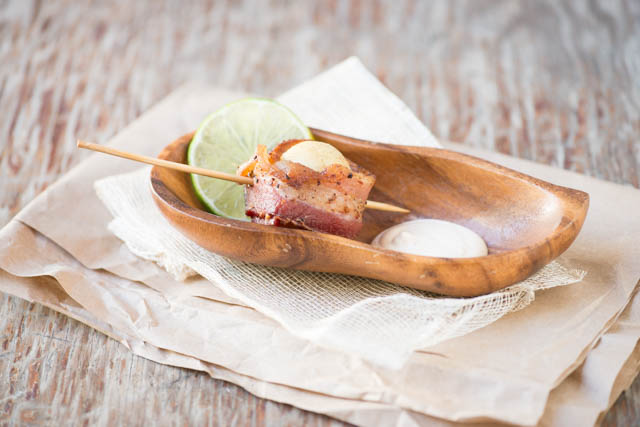 Bacon Wrapped Potatoes with Chipotle Aioli
2016-02-25 07:08:14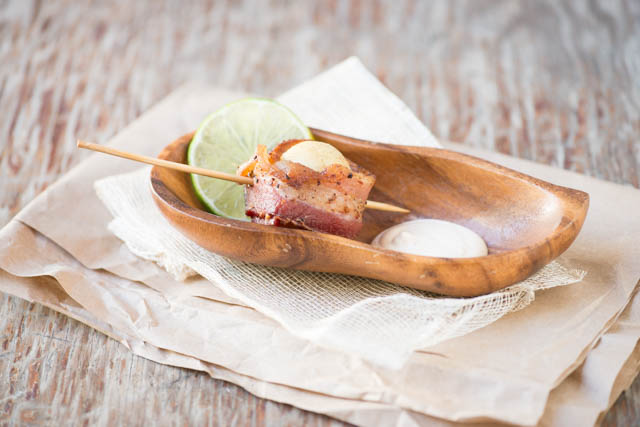 Ingredients
2 pounds baby potatoes (the smaller the better)
2 tablespoons Caramelized Garlic Olive Oil
Kosher Salt and fresh ground black pepper
1 to 2 pounds bacon
Wooden skewers or toothpicks
Chipotle Aioli
½ cup mayonnaise
1 tablespoon chipotle chile powder
1 tablespoon fresh squeezed lime juice
Pinch of salt
Extra lime slices for squeezing, if desired
Instructions
Preheat oven to 400°F. Place potatoes on a rimmed baking sheet, drizzle with olive oil and liberally sprinkle with salt and pepper. Roast for 30 to 40 minutes or until fork tender, remove and let cool. Keep oven on.
While potatoes are roasting, in a small bowl whisk together mayonnaise, chipotle chile powder, lime juice and salt. Refrigerate for 30 minutes to let flavors bloom.
Cook bacon until a good portion of fat is rendered but before the bacon becomes crisp. Drain on a paper towel.
Wrap potatoes in bacon and secure with a skewer. Depending on the size of the potato/bacon you may have to trim the bacon or use ½ slices. Do this until all the potatoes and bacon are skewered. Place back on baking sheet.
Return to oven and cook for another 10 to 15 minutes or until bacon is crisp.
Notes
Naturally gluten free!
Pizazz http://pizazzmt.com/
Recipe and photo by Rhonda Adkins Photography