We just can't tell you how much we love this flatbread! It's so versatile, serve it for lunch with a salad, cut it into triangles for an appetizer or slice it into rectangles for dipping in soup (sans the arugula). Caramelizing onions takes 45 minutes or more, way to long in our book. Thank goodness Rothschild Farm has done all the work! Finish off the flatbread with a drizzle of Villa Grimelli Balsamic Glaze. For baking we recommend the Emile Henry Pizza stone, see why we like it so much here.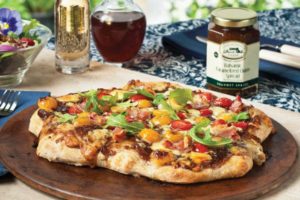 Balsamic Vinegar Caramelized Onion Flatbread
2016-10-28 09:19:43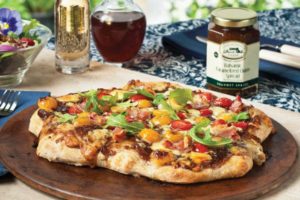 Ingredients
1 Prepared pizza dough
1 jar Robert Rothschild Farm Balsamic Caramelized Onion Spread
15 Cherry tomatoes
2 oz. Gorgonzola cheese
2 cups Arugula
Optional
2 oz. Pancetta, diced
1/4 cup Villa Grimelli Balsamic Vinegar Glaze
Instructions
Preheat oven to 450° F. Place pizza stone or baking sheet in oven. Roll pizza dough into free-form shape on countertop and transfer to pre-warmed pizza stone or baking sheet. Bake dough for 5 minutes at 450°F. At the same time, roast tomatoes in a roasting pan in the oven for 5 minutes at 450°F. While pizza crust is baking and tomatoes are roasting, crisp diced pancetta on stovetop. Remove flatbread and tomatoes from oven. Spread Balsamic Caramelized Onion Spread on flatbread. Arrange roasted tomatoes and Gorgonzola cheese evenly on flatbread. Sprinkle with pancetta, if desired. Top flatbread with arugula. Broil in oven on middle rack for 3 minutes. Remove from oven, drizzle with balsamic vinegar glaze if desired. Cut and serve.
Notes
If you live in Great Falls you can purchased prepared pizza dough from Howard's Pizza. For a different version sub out the pizza dough with puff pastry.
Pizazz http://pizazzmt.com/
Featured Products: