Summer is just around the corner, all this lovely weather has inspired us to share a light, refreshing and zippy salad. A little twist to the traditional cucumber salad, we've added some jalapenos, orange peppers for color and used cucumber vinegar to up the flava!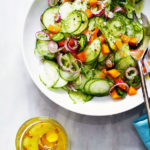 Cucumber Jalapeno Salad
2017-05-10 13:05:37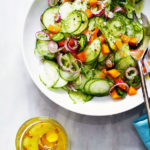 Serves 6
Ingredients
2 cucumbers
1 small red onion, peeled halved
1 jalapeno, seeded and finely diced
1/2 orange bell pepper, diced
2 cloves garlic, finely minced
3 tablespoons Olivelle Cucumber Balsamic Vinegar
5 tablespoons Olivelle Vera Cruz Chile olive oil (for a milder heat, sub some Vera Cruz for Frantoia Olive Oil)
½ teaspoon salt, or to taste
Fresh cracked black pepper, to taste
4 tablespoons chopped cilantro, (optional)
Crushed red pepper flakes (optional for additional heat)
Instructions
Thinly slice cucumbers and red onion, we recommend using a mandoline for best results. Toss cucumber, onion, jalapeno and bell pepper together in a large bowl.
Whisk the garlic, vinegar, oil(s), salt and pepper together. Pour over salad and mix to coat. Taste for seasoning. Garnish with cilantro if desired.
Pizazz http://pizazzmt.com/
Featured Products: