Each month Pizazz will be highlighting a product that we carry so that you can learn more about why we carry this quality product. This month our product spotlight is on Woll cookware.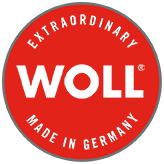 Since 1979 their owner managed business has produced professional-quality, cast aluminium cookware, for the most exacting demands. They combine traditional craftsmanship with innovative technology. Each item is handmade, in Germany, in a process far removed from anonymous mass production techniques.
We carry the Diamond Titan Best line because of the amazing durability of this non-stick cookware:
1. Cast body in pre-processed aluminum alloy.
2. A sandblast treatment increases the surface area by 15 times to ensure the best possible adhesion of later layers.
3. Extremely hard cut resistant base layer: titanium or diamond crystals are bonded to the aluminum using a plasma jet at 20,000 °C/36,000 °F.
4. Unique protective layer against corrosion.
5. The third layer provides the cookware's long-lasting non-stick effect.
6. The specially developed single or double top layer is reinforced with ceramic, sapphire or diamond particles, ensuring the unique long service life of WOLL products.
PFOA Free: Perfluorooctanoic acid (PFOA) (conjugate base perfluorooctanoate), also known as C8, is a synthetic perfluorinated carboxylic acid and fluorosurfactant. One industrial application is as a surfactant in the emulsion polymerization of fluoropolymers. This is the stuff used to make Teflon, there isn't conclusive proof that it causes cancer, but high exposure can be hazardous.
Dishwasher & Oven safe
Due to the highly resistant WOLL coating you can use all your kitchen utensils without any problems, whether they are made of wood, plastic or even metal. Although we don't recommend using a knife and cutting directly in the pan.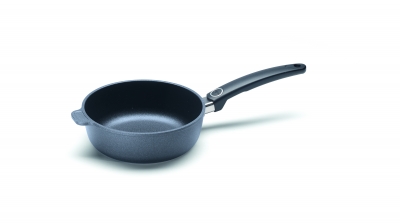 How to use your Woll cookware:
The right temperature when frying: WOLL professional cast products get hot particularly quickly!
When empty, WOLL professional cast products reach a temperature of up to 300° C (570°F) in just three minutes when you use the highest heat setting. Reduce the heat in good time so as to obtain healthy and tasty cooking results. If the temperature is too high, cooking oils and fats can burn very quickly and also leave so-called tar resins on the surface of the pan, which under some circumstances can not be removed and will damage the non-stick properties.
This is how you heat up your WOLL professional cast product correctly when frying with fat or oil or when baking:
• Heat up your WOLL professional cast product briefly while empty using the highest heat setting. The high-quality cast base heats up very quickly and evenly.
• Turn down to the required temperature and add fat or oil and the food to be fried. We recommend grape seed oil for high heat and olive oil for lower heat.
• Do the wooden spoon test in order to see whether the fat or oil is at the right temperature – put the handle of a dry wooden spoon into the fat. If small bubbles form around it then the fat is hot enough. It should not start to smoke as this is the point at which it can catch fire! The high-quality non-stick coating on WOLL professional cast products makes them best suited to fat free frying of, for example, meat:
• When fat free frying meat, your WOLL professional cast products should be heated up for approximately 2 1/2 minutes at maximum power. The temperature can be tested by means of the so called drop test: wet your finger and flick a couple of droplets of water into the WOLL professional cast product – if it spits, the WOLL professional cast product is too hot.
• Now reduce the temperature by about 30 %.
• Meat should be at room temperature before cooking.
• Now, put the meat into the WOLL professional cast product – it will stick slightly at first.
• Turn it when it loosens slightly from the base and seal the other side quickly, too.
• Fry the meat until your personal preference is achieved. Rare – using the so called thumb test, no resistance should be felt; Medium – slight resistance is felt; Well done – hardly any movement at all should be felt.
• After frying place the meat into a pre-heated oven at 200°F for approximately 5 minutes.
Did you know that Woll heats up 1/3 faster than and more evenly than cast iron pans! This means they save you on energy bills! Because Woll is so efficient you don't have to use as high as a temperature setting either, again, another energy saver!
We love Woll so much that we use it in the cooking school, we are always happy to demonstrate it for you!
Besides the frying pans, our cooking school instructor's favorite Woll piece is the Oval Roaster. This versatile piece gives a lot of cooking surface, perfect for browning a roast and then putting it on the stove top. Rhonda especially likes it to cook long pasta because it all fits in the pot right from the start, no need to break or wait till it softens to fit it in!