It seems like nearly every culture has their version of chicken noodle soup. We love this one because it packs a bunch of exotic flavors into one bowl! Feed that cold something special. For cooking this soup we love our Le Creuset Dutch oven.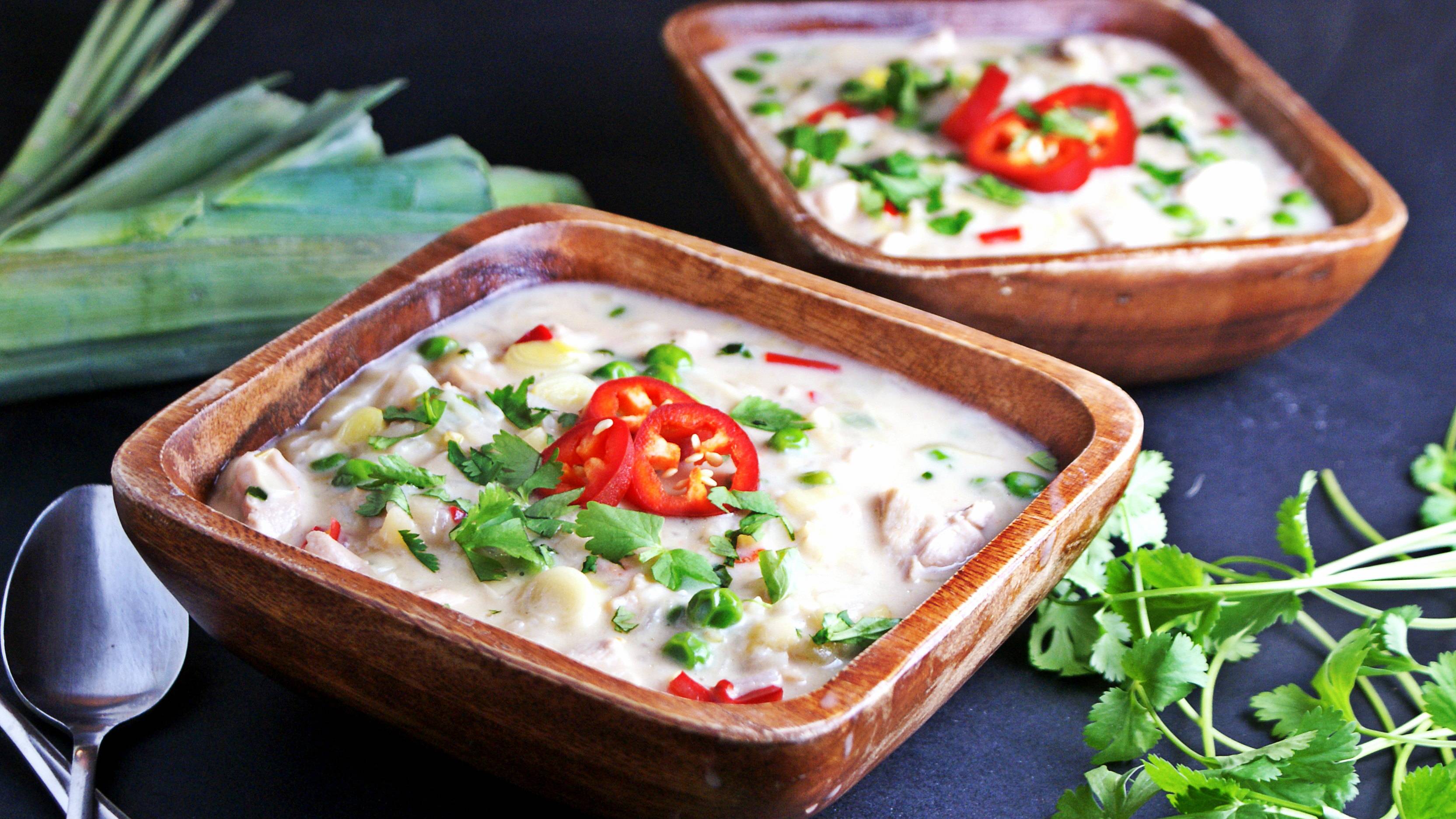 Thai Thai Chicken and Rice Soup
2017-01-04 16:00:21
Serves 4
Ingredients
1 Tablespoon Lime olive oil*
2-3 fresh red Thai chiles or other hot chiles
3 cloves garlic, finely chopped
1 large leek, white parts sliced
3 1/2 cups chicken stock (see below for a healthy homemade recipe)
1 can coconut milk
2 Dried Kaffir Lime Leaves*
1/2 cup jasmine rice, rinsed
1 pound chicken thighs, cut into small chunks
2 Tablespoons fish sauce
1 stalk lemongrass, sliced in half lengthwise and then chopped into 4-5 inch pieces
1 Tablespoons minced ginger
1 Tablespoon Coconut Vinegar*
1 cup frozen peas
3 Tablespoons fresh cilantro, chopped
Salt to taste
Lime wedges (optional)
Instructions
In a large saucepan, heat oil and sauté chile, garlic, and leeks until fragrant.
Add stock, coconut milk and lime leaves, then bring to a boil.
Turn heat down to a simmer, add rice, chicken, fish sauce, lemongrass, ginger, and coconut vinegar.
Simmer until chicken is cooked through and rice is tender, about 30 minutes.
Taste for salt.
Add frozen peas, cook 3-4 minutes.
Remove lemongrass and lime leaves and serve.
Garnish with additional chopped cilantro and red pepper slices. Finish with a squeeze of lime if desired.
Notes
*Items can be purchased at Pizazz
Pizazz http://pizazzmt.com/
Featured Products: