Rhonda here. My dad's side of the family hails from West Texas, Baird Texas to be exact. My dad used to say "the only thing between Baird and the North Pole was a barbed wire fence…maybe some tumbleweeds too". Any Texan will also tell you that "real chili has got no tomaters or beans in it". Pure simple chile con carne! In recreating this type of chili I combined dried chiles with fresh chiles and took a little inspiration from J. Kenji Lopez-Alt (The Food Lab) and added some Asian fish sauce and used his technique for browning off the meat. Now before you turn up your nose at this, it won't make it fishy but does add a nice salty briny layer of flavor…give it a try, you'll see! The sweet potato is added for balance and some nutrition, you could also add some hearty leafy greens if you are into that.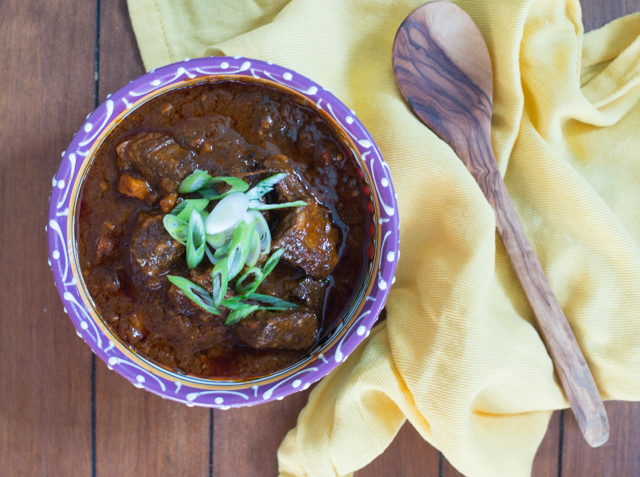 I also made the chile soaking step and blending is easier by using the soup mode on the Wolf Blender, worked liked a charm. Pop this in the Fagor multi-cooker and you'll have this chili ready in half the time.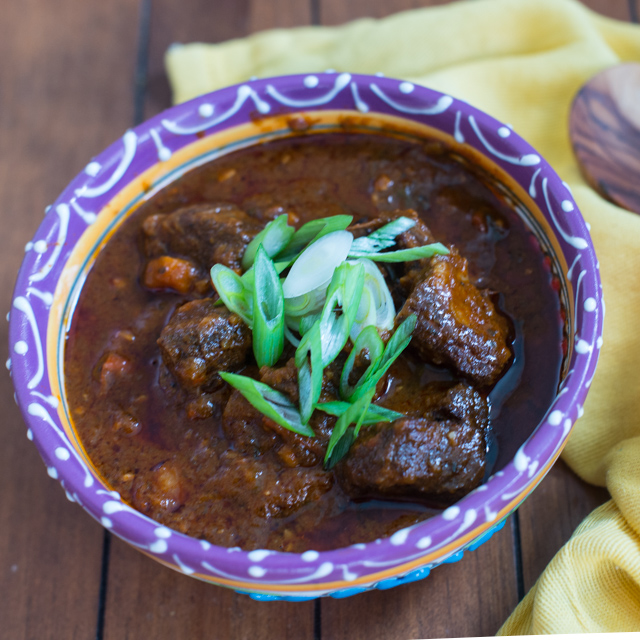 West Texas Chili
2018-01-31 10:26:34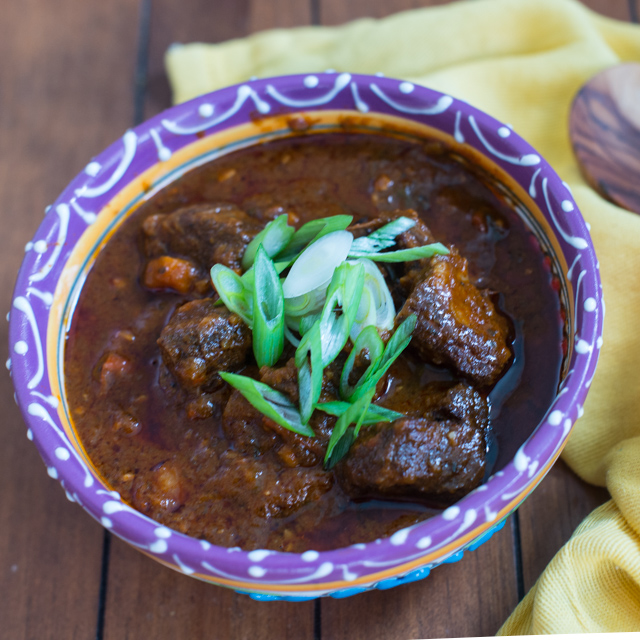 Serves 8
Ingredients
4 small hot dried Arbol Chilies, stems and seeds removed (use only two if you like it milder
4 whole dried chipotle peppers, stems and seeds removed or 2 whole Chipotle chilies canned in adobo sauce, plus 2 tablespoons sauce, stems and seeds removed
3 to 4 whole New Mexico Chiles stems and seeds removed
3 to 4 whole Guajillo chilies, stems and seeds removed
4 to 5 cups beef bone broth
4 pounds beef chuck, trimmed of excess gristle and fat, cut into thick steaks, reserve the fat
Kosher salt and freshly ground black pepper
1 large onion, finely diced
1 red bell pepper, seeded and diced
1 poblano/pasillo pepper, seeded and diced
1 Anaheim pepper, seeded and diced
4 medium cloves garlic, grated on a micro-plane grater
1 tablespoon ground cumin
2 teaspoons dried oregano
1/2 teaspoon powdered cinnamon
1 or 2 sweet potato, peeled and cubed (optional)
2 cups chopped dark leafy greens (kale, spinach, collard, or chard)-optional
2 tablespoons Asian fish sauce (use Red Boat brand if you want a sugar free fish sauce)
2 to 3 tablespoons masa
2 tablespoons apple cider vinegar
Chopped tomatoes, Cilantro, chopped onions, scallions, grated cheese, avocado, or other favorite topping
Crackers, corn chips or warm tortillas for serving as desired
Instructions
Add dried chiles to large heavy-bottomed Dutch oven or stock pot and cook over medium-high heat, stirring frequently, until slightly darkened with intense, roasted aroma, 2 to 5 minutes. Do not allow to smoke. Remove chiles to Wolf blender, add bone broth. Set to soup and start. Alternatively chiles in a microwave-safe liquid measuring cup or bowl. Add bone broth (4 cups for pressure cooker, 5 cups for Dutch oven) and cover with plastic wrap, and microwave on high power until gently simmering, about 5 minutes. Remove from microwave (add canned chipotles at this time if using instead of dried) and set aside for 5 minutes. Transfer chilies and liquid to blender and blend, starting on low then gradually increasing speed to high (make sure to vent lid slightly and hold the lid down with a clean kitchen towel or a potholder to prevent it from blowing out). Blend until smooth, about 1 minute. Or use an immersion blender.
Put a Fagor mult-Cooker on Brown setting, or heat a Dutch oven on medium high heat. And reserved fat pieces and cook until about 2 tablespoons is rendered, remove fat and discard. Season chuck steaks generously with salt and pepper. Add beef chuck slices in a single layer and cook without moving until deeply browned, about 6 minutes. Flip steaks and brown second side, 3 to 4 minutes longer. Repeat until all chuck steaks are cooked. Transfer steaks to a cutting board with a liquid channel. When cool enough to handle, cut seared steaks into 1 1/2- to 2-inch chunks.
Set the Fagor multi-cooker to sauté or Dutch oven to medium heat. Add onions and fresh diced peppers and cook, stirring frequently until onions are translucent and softened, about 4 minutes. Add garlic, cinnamon, cumin, and oregano, and cook, stirring constantly until fragrant, about 1 minute. Add all meat back to pan along with chili puree. Stir to combine.
Place lid on multi-cooker, set steam release to Pressure, pressure cook on high 45 minutes (60 minutes if omitting sweet potato and greens). Quick release steam, add sweet potatoes and greens if you are using them). Reset for high pressure for 15 minutes. Natural release pressure. Or bring to a boil over high heat in Dutch oven, reduce to a simmer, cover, leaving lid just barely ajar and cook, stirring 2 hours. Add sweet potatoes and greens if using. Simmer another 30 minutes to 1 hour, or until meat it completely tender and potatoes are soft. It can also be cooked in a 200° to 250°F oven with the lid of the Dutch oven slightly ajar.
Stir in fish sauce, masa harina (if using), and vinegar. Season to taste with salt. For best results, allow chili to cool and store in the refrigerator at least overnight and up to five days. Reheat the next day to serve.
Serve with desired garnishes and sides.
Pizazz http://pizazzmt.com/