First off we know these are expensive, but these aren't appliances that you just date, this is a full on commitment to a minimal 5-year warranty and more likely a lifetime of togetherness. We think that these appliances are so great that you should sell your others, sell some jewelry, sell your spouse, or whatever you need to do to get them (or you can come work at Pizazz like me and not get a paycheck for awhile…."I owe my soul to the company store").
Let's wax poetic with all the techy stuff that makes these appliances the VERY BEST:
High Performance Blender
Product Features
Targeted Features with Key Advantages
•Precision control for more delicious results
–Infinitely variable speed dial with pulse
–4 programmed settings
•Smoothie, Puree, Soup, and Ice Crush
–Timer
•Counts up in manual mode
•Counts down in program mode
Other Key Features
•2.4 Peak hpmotor
•64 oz. TritanTMcopolyesterjar
•Stainless steel blades and cutter assembly
•All-metal drive
•Emulsion dosing cup
–Adds control, improves results
•Unique design for quiet blending
•Fits under standard-size cabinets
•Stainless steel and die-cast construction
•Backed by a 5-year limited warranty
Countertop Oven w/Convection
Product Features
Targeted Features with Key Advantages
•Best in class convection performance
•Fits most 9" by 13" stoneware

•Integral oven probe
Other Key Advantages
•Wolf heritage
–Easy glide bake rack
–Door Seal
–Dampened door
–Fast pre-heat
•6 oven modes: Proof, Warm, Roast, Bake, Broil (Hi / Lo), and Toast
•4-hour auto shut-off
•Non-stick interior (sides, rear and door panels) and stainless steel crumb tray for easy clean-up
•Programmable electronic controls
•5 heating elements provide up to 1800W
•Bake pan with broil rack included
Commercial Quality Toaster
Product Features
Targeted Features with Key Advantages
•Larger Slot size (mm): 38 x155 x120
–Longest slots available in targeted configuration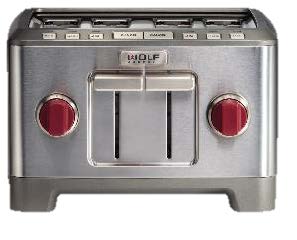 •Self-centering bread guides
–Superior thin and thick toast performance
•Electronic Keep-Warm
Other Key Features
•Adjustable color knob with 7 toast shade settings
•Cancel, Bagel, Defrost functionality
•Commercial grade heating elements
•Extended bread lifter travel
–Allows easy removal of smaller foods
•Dampened bread lifter and isolated bread guides for quiet operation
•Allows functions to be selected prior to actuating the bread lifter
Ask Robin, Rhonda or Karen how much they love theirs! Coming soon, recipe for Texas chili with help from our Wolf Blender and Fagor Multi-Cooker.