Rhonda here, I just needed to share with you one of the scariest kitchen tools, so scary I call it the finger guillotine! I was so scared of using a mandolin that I wouldn't even entertain the idea until 5 years ago.
I had some decent knife skills so I felt like why take the risk? I kept seeing these mandolins everywhere, I watched TV chefs use them like nobodies business and I noticed how quickly the job was done. I also noticed how perfectly even the slices were and better yet I noticed how thin the slices were.
I had purchased one of those microwave chip makers (one of my weaknesses is salty crunchy food) so I could be healthier… It didn't work out for me, I just couldn't slice them thin. Sigh, I knew the answer to the problems but I was a scaredy cat!
I decided to ask for one as a gift (I didn't want to spend my money on it). My dear hubby promptly picked out the fanciest, most expensive mandolin he could find. Boys and their toys translated to this all out mandolin. Only I didn't really like it. It worked well on some things but it was cumbersome, it had too many parts!
As cumbersome things go, they get put away and rarely see the daylight. And so also went the microwave chip maker…
Fast forward to me working at the school and needed to do lots of slicing. The school carries the Swissmar Borhner Mandolin. I tried it. It was simple. It was fast. It was lightweight. It was compact. It was easy to clean. It had a safety feature to block the blade.
I found like the clouds opened up, the sun shined and the heavenly angels began to sing. And I still had all my fingers. Yes it was that great. So great that I bought one
for myself and sheepishly told my generous husband that the one he bought sucked…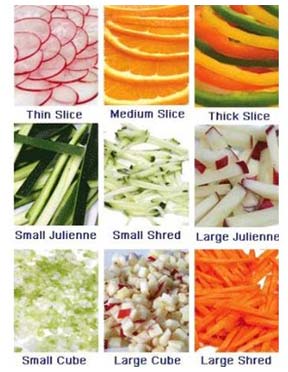 I mostly use the mandolin for slicing. perfect for slicing cucumbers for veggie canapes, potatoes for gratin, veggie ribbons and of course thinly slicing for microwave chips.
It has a couple of interchangeable blades that can julienne and even dice and for all you scaredy cats it even has a food guard, well more of a finger guard to protect you.
Personally I don't use it, when I get close to the blade I slow down and focus, time to "be the carrot".
Obviously I'm not alone in thinking that this mandolin is the shiznit! Cooking Illustrated/America's Test Kitchen rated this mandolin number one and trust me they do some serious testing, so their choice is no joke.
So hike up your britches, march down to the store and make the commitment, we'll even let you practice on ours and coach you so you feel comfortable. That's how much we think you need to have this kitchen helper at home, slicing and dicing and julienning like mad.
It comes in 4 colors (you know mine is orange), takes up little space and has a safety blade holder that snaps to the back to help keep you organized.