Nothing like the month of May to get us in the mood for anything Mexican! We pulled out our favorite Fagor Multi-Cooker to make quick work of the meat, then shredded it and slathered it with homemade enchilada sauce! Once you make your own you'll never want to go back to the pre-made stuff!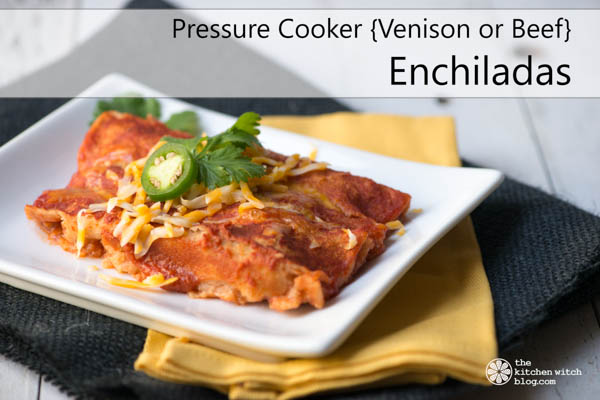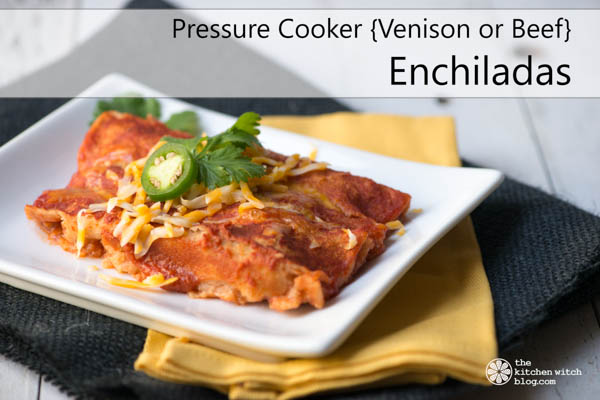 Pressure Cooker Enchiladas
2017-05-03 10:02:19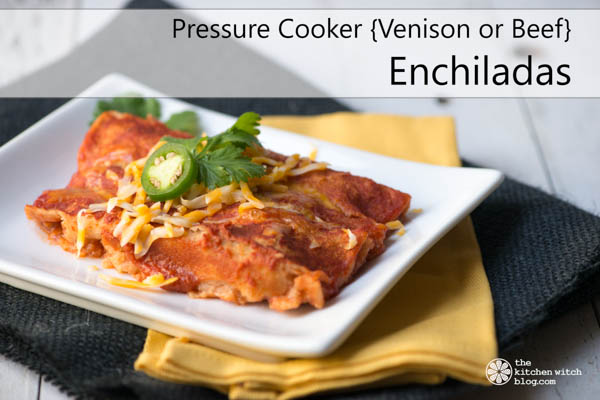 Serves 6
Ingredients
2 cups tomato sauce
1 1/2 cups beef broth
1 tablespoon chili powder
1/2 teaspoon cumin
1/2 teaspoon cayenne pepper
1 to 1 1/2 pounds stew meat (wild game or beef), or roast cut up
Salt and Pepper
1 tablespoon oil
1 cup stewed tomatoes
12 corn tortillas
2 cups colby jack cheese, shredded
Sour cream, jalapenos and cilantro for garnish if desired
Instructions
Preheat oven to 350°F.
In a medium saucepan, mix tomato sauce, broth, chili powder, cumin and cayenne. Remove 1/2 cup for the beef. Bring to a boil, then reduce heat and simmer for 10 minutes, stirring occasionally.
Meanwhile, salt and pepper the beef, brown the beef on the browning mode of the Fagor Multi-cooker. Add 1/2 cup enchilada sauce and 1 cup stewed tomatoes to the cooker. Pressure cook on high pressure for 10 minutes with natural release. Remove meat and let cool enough to handle. Chop meat into small pieces.
Pour a thin layer of sauce onto the bottom of a 9x13 pan
Warm tortillas in a dry non-stick skillet set to medium low. Place tortillas one at time on the skillet for about 5 seconds on each side.
Fill each tortilla with meat and cheese (approximately 2 tablespoons of each). Once filled place filled tortilla seam side down into the prepared pan. Continue to heat and fill each tortilla until all 12 are completed. Pour remaining sauce over the stuffed tortillas. Cover with foil and bake for 20 minutes.
Remove foil, sprinkle tops with cheese and bake for 5 more minutes or until cheese is melted.
Serve with sour cream, sliced jalapenos and cilantro if desired.
Adapted from The Kitchen Witch blog
Pizazz http://pizazzmt.com/